News
12th gliding expedition in Patagonia
The 2013 wave soaring expedition in Patagonia is launched

Dear friends,
TopFly invites you to participate to the 12th wave gliding camp in Patagonia, from November 15th to January 15th. The aim is not only to try to break national and world records although every attempt is always an unforgettable moment but also to practice almost unlimited wave flying under the best known conditions of this planet, and discovering, preferably in silent flight with our Nimbus 4DM especially equipped for your comfort and safety, a marvellous country where everything is pure immensity in an uncontaminated world and a highly protected environment.

We operate from San Carlos de Bariloche, Lago Nahuel Huapi Aero-Club, 800m altitude, lacustrine town of 150.000 inhabitants, offering all the services and recreational activities that you may expect from the largest mountain resort of South America.

The flying options will remain the same as for the 2012 expedition, start surfing on our web site www.topfly.aero where you will find all the information for the preparation of your journey, with hundreds of photographs, movies, the narratives of our significant flights and records with their IGC files and a lot of other useful information.
Cordially,
Jean-Marie Clément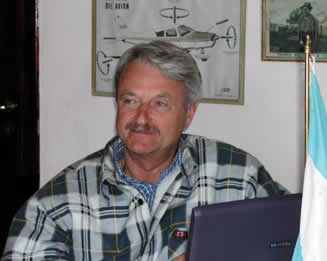 TopFly is a private initiative whose goal is to have the greatest number of pilots discovering, sharing and being taught the joy of the
"dream flights"
in sailplanes, and in particular, the dynamic and wave flights, that Jean-Marie Clément had already studied during his engineering degree studies in Paris in 1967 and later, at the Polytechnic of Turin with the late, regretted Prof. Piero Morelli.
In 1982, Jean-Marie achieved the first 1000km flight in Europe, in the Alps and using wave. He then started putting down in black and white his techniques for analysing and exploiting atmospheric gravity wave systems, which are still the subject of conferences regularly presented within the aero-clubs.
Read more